Installation Crew Specializing in Home Exteriors
Capital City Exteriors is an employee-owned company located in Lincoln, Nebraska. All members of our installation crew are locally employed. 
Our company is led by owner Nick Meinke. His wife, Lacy, takes charge of accounting tasks. Nick and Lacy have two children. They enjoy watching the kids play baseball, soccer, and volleyball.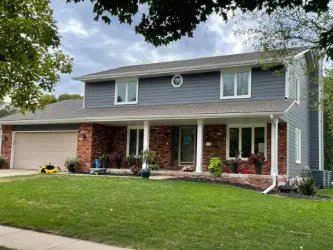 When installing key home fixtures like windows, entry doors, siding, and gutters, everything needs to be thought through exceedingly well. Expect us to devote keen attention to all the details that make form and function fuse sensibly.
Every home is as unique as the lifestyles followed by its owners. That's why we do our best to customize the components we install and make sure that all these home additions align with your design and aesthetic preferences.
Swap amazing home improvement ideas with us because we believe that creative collaboration makes everything quick, simple, and easy. We always keep communication lines open and keep you looped in on project progress.
Say Yes to Home Improvements
Update, upgrade, and elevate curb appeal. Let us install the amazing fixtures that can make your home exteriors pop.